First, I want to thank everyone who checked in on me last night, it honestly means so much. I had friends, followers, co-workers, people who I haven't spoken to in years all message me: it meant the world to me. Crazy, how in a time of darkness, you see people who still care, and it truly does make everything seem a little bit better.
I was at the Mondrian hotel's rooftop bar, the Rumpus Room, which is almost the same view as the London Eye and we could clearly see all the police sirens and ambulances heading towards the London Bridge. And the two other attacks that happened were on the other side of the hotel and behind the hotel. Very scary to feel surrounded, but also so thankful I was with friends in a safe area. The next day the city was very quiet, but still active. Being in Boston during the Marathon Bombings, it was a very different feel the day after the attack than here. The people here are quite stolid, which as a tourist, felt reassuring.
Anyways, thanks for reading my serious bit. I got some London tips for you:
If you're using your cell phone here, take screen shots of your Google maps while you're in a place with wifi. My friend and I planned our activities and then went out and about and couldn't look up how to get anywhere because 0 data without wifi. TAKE SCREENSHOTS!
London Eye: gorgeous view, try to do it at night! Or just go to the Mondrian Hotel, almost the same view, but cocktails and food!
Tower of London.....snooze fest. This is where they keep the crown jewels, which don't get me wrong beautiful, but I was more interested in the torture chambers and learning about the execution of Anne Boleyn and the other famous residents like, Mary Queen of Scots. Morbid much? But honestly, the torture "chamber" was one room and a sign explaining things. Anne Boleyn had a monument (not at site of execution)... and that's about it. Cool room showing all the different types of armory, but other than that, you can skip it and not miss a thing.
Like Girlboss/ Nasty Gal (the shop or show on Netflix)? Then hit up Notting Hill! See where the posh live, but where the hipsters thrive! See some of the best thrift stores, antique shops, and handmade clothing. This is where you're going to see the best finds.
Oh and if you're going to see a show at Shakespeare's Globe, make sure you read detailed reviews. The traditional plays are not always what you get. We saw a very avant garde version of Romeo and Juliet, and we were NOT expecting that! To be honest I hated it. If you want to know more, ask me questions in the comments!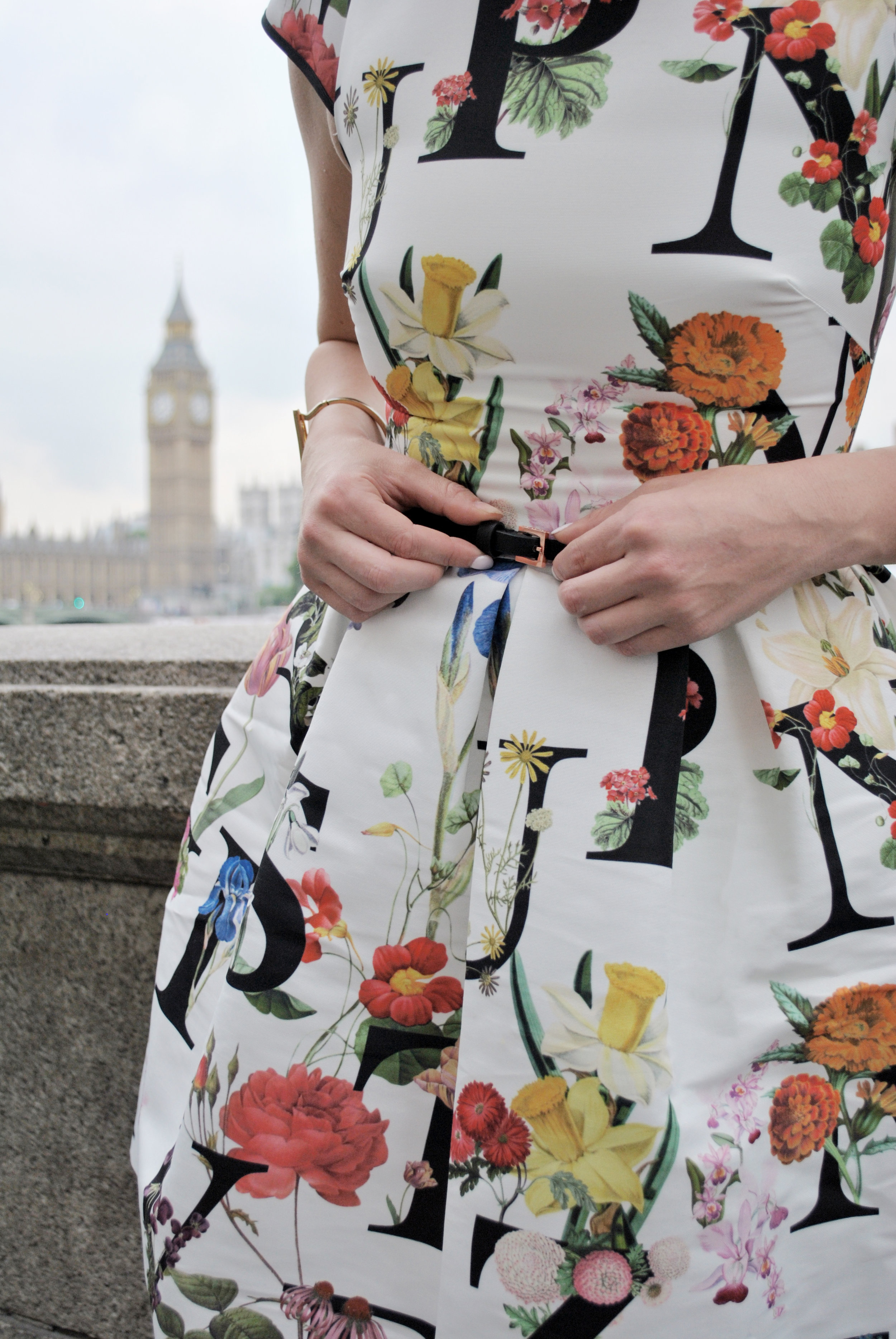 Once again I'm rocking Ted Baker in London, because there's nothing else I'd rather be wearing here! Ted Baker always makes me feel like a modern day Alice in Wonderland. This dress in particular is one of my favorites, as a graphic designer at heart, anything with typography I'm obsessed with! When you mix bold lines like type and floral prints, you get a really exotic chic look. Thank you Ted Baker for helping sponsor this post!
Get the look: